Developer: Maxime Vézina | Released: 2016 | Genre: Puzzle, First Person
This was a free first person puzzle game akin to the genre that Portal and its sequel gave rise to. Just like Parallax, the also excessively white first person puzzle game I tried last month, it was devoid of any story and just felt like a series of training levels. I was actually contemplating leaving it for the same reason, but before I knew it, it was all over. It barely took even an hour to complete its eight chapters.
Each challenge room had a set of red piston surfaces I could shoot for them to slide out. Some I had to walk on, some could push me into the air and maybe onto a platform, another might give me a sideways boost. I had limited energy too, meaning that not too many red pistons could be out and about. Sometimes I had to look back and shoot a few to contract them.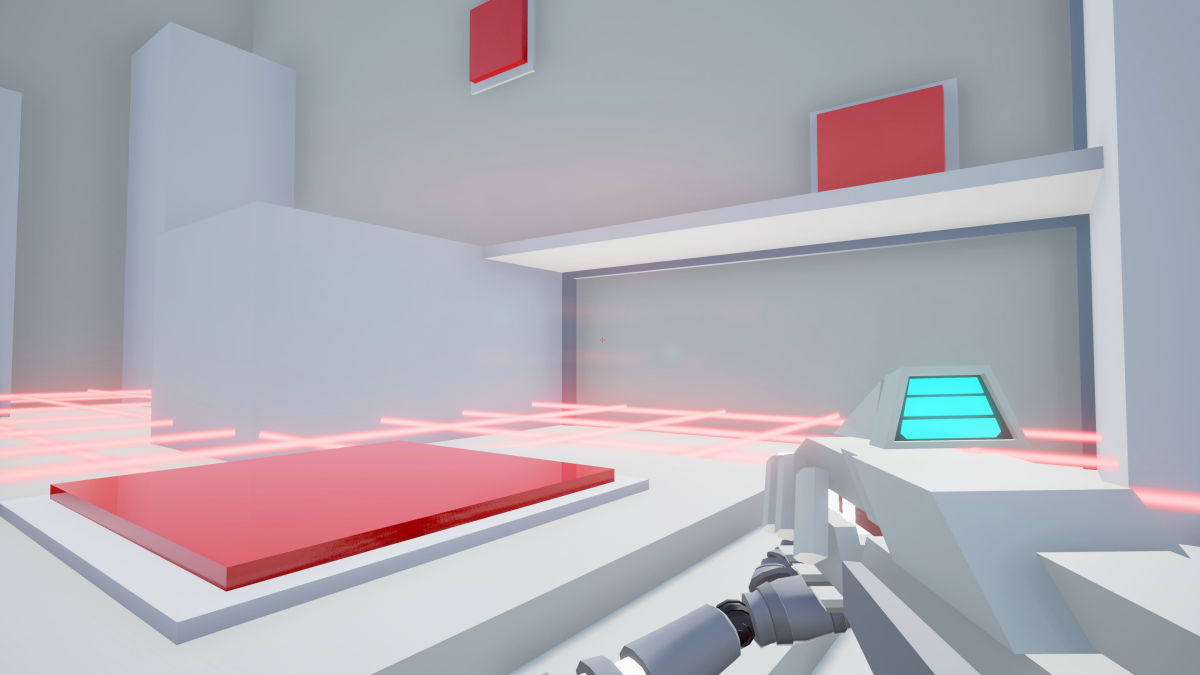 The challenges were quite diverse. Some had me thinking about how to arrange the red pistons for me to traverse the room. Some blocked lethal red lasers. Other challenges had a timer for e.g. resetting doors or pistons, and those were of course my least favorite type. Especially a nasty room with a slowly rising grid of red lasers had me fumbling and dying repeatedly. I almost left the game at that point.
It was clearly the worst room in the entire game.
In the later chapters, a swirling corridor could turn the previous room upside down, although this was barely used twice. And as the game was about to end, a small smattering of a story suddenly appeared by having to shut down a reactor and then flee the electronic lava rising everywhere. Again dexterity was required, but it actually wasn't that bad. After two or three retries I was past it, and it was often fun. The game also started having checkpoints in the middle of some challenge rooms.
I just wish the developer had also added one in the room with the rising grid of red lasers.
Title

Length

Dates
Diff / Cht
Save
Score

Red Trigger

2019-05-31
2019-05-31

7