Almost 5 months has now passed since I utilized WordPress and opened this blog, and I thought I would show you my latest daily statistics. I often find these kinds of posts very interesting on other blogs, and I hope you agree too. Maybe it will be the first of many.
Today I use four tools to measure the visitor statistics at this web site. There's the built-in statistics at my domain host (One.com) as well as exporting the Apache log files and viewing them with WebLog Expert Lite. Let's just say both of these methods leaves a lot to be desired.
Luckily I also use two other methods which I think are both much better at giving me the overview and data I require. The first is of course Google Analytics, which has a lot of interesting graphs and details. I've been using this since I converted to the blog and it shows me that there's been a steady amount of approximately 140-150 visitors per day for the most part.
Halfway through May, I discovered the wonderful plugin WassUp for WordPress. It's now my fourth and preferred tool of measuring visitor numbers. I has a great list of exactly what pages visitors go to, how they browse around, where they come from (link, search engine, directly) and other juicy details. The way this is represented makes it easy to get an idea of what's popular.
The other day I calculated the average for a day out of one week and came up with 185 visitors per day – a little more than the estimate from Google Analytics. It includes spam attempts but not spiders and bots. 89 (48%) of these were referred (i.e. came from clicking an external link), 39 (21%) from search engines (including searches for images) and 8 were spam hits (4%).
WassUp also has a useful search ability, and with this I managed to get the exact number of visitors for certain areas of my web site as well. I added the data to an Excel spreadsheet and created the following column chart: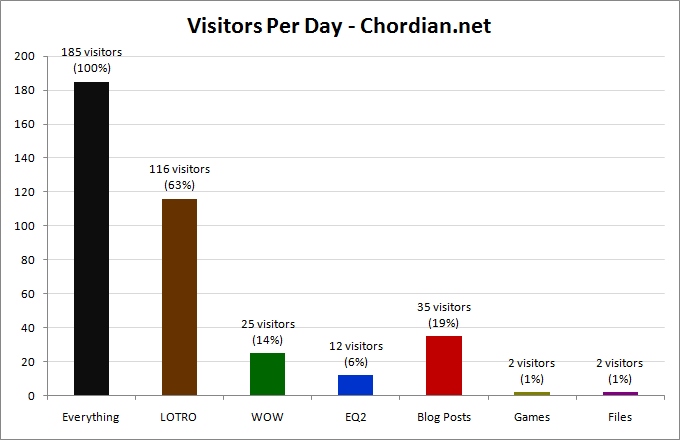 As you can see, the section for LOTRO is by far the most popular area of the web site. The one for weapon glows in WoW is a bit lower, but it's also a relatively new section. Many visitors come from referrers or direct hits, but there are also a nice lot coming from search engines.
I converted to WordPress in January hoping that I could lure some of the MMORPG visitors over to my new blog, but this actually hasn't worked out very well. Almost all of these visitors only browse the MMORPG pages and then leave. Recently, I even added a BLOG menu item in top to make them more aware of the blog, but even this didn't make much of a difference. Most of the hits in the red column originates from external blog links or search engine hits.
The absence of readers and comments to my blog posts have been pretty discouraging, but I'm not going to give up just yet. Perhaps I should add a few speling msitakes like in this comic strip: