Developer: Brandon Brizzi | Released: 2014 | Genre: Driving, Adventure
I just completed the driving adventure game Night Shift. That was weird. Seriously weird.
It took me over two hours to complete it, which seems to be twice as long as it should probably have taken me. But it took a while to get used to the general weirdness and what the game really wanted me to do. It wasn't just driving along the road – in fact, this was not about racing at all.
It was about getting the sun back.
The goal was to get a flame from each of six puzzle challenges which was made extra weird in the way I had to leave roads to find the next one. In between these puzzles there was a gray sphere showing the flames I had collected so far, rotating around it. Imagine finding this sphere first time with just one flame around it, knowing nothing about what's going on. That's how the game is.
It wasn't completely void of tips, though. Sometimes a white ghost was standing around and if I drove close to it, it offered a light tip as a text line in the bottom of the screen.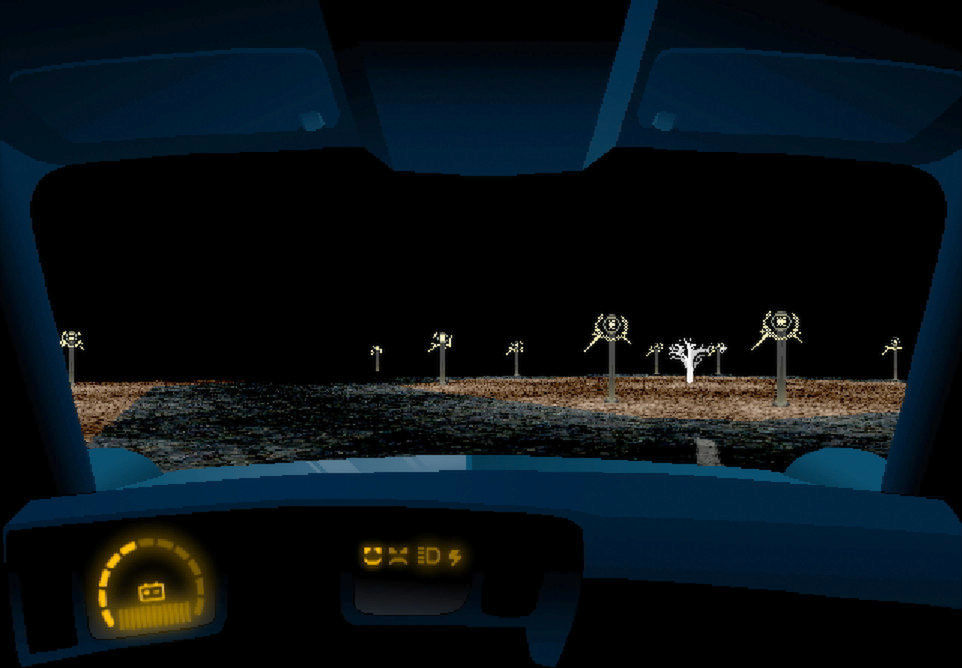 The challenges themselves typically revolved around lighting street lights with an extra strong beam of light from my first person car. I could also eliminate other ghost cars with this flashing. Glowing butterflies could be placeholder hints, and sometimes I had to align things in a way that never quite got entirely clear (this was the part where trial and error took over). There was even sort of a different realm that the game shifted to whenever I was out of battery power. This was also used in a couple of puzzles.
More power was obtained by driving close to white ghost trees.
Whenever I was on the "right track" the looping music samples built up to get the sensation of things rolling. Both the use of music and the car itself gave a solid 80's vibe, and completing the game played an animated piece. This animation was very nice, but I had hoped I could have driven up the sun-rising road while watching the dawn grow stronger. I think that might have worked quite well.
The game was weird, the 3D engine with sprites was deliberately retro (it looked like it belonged in the mid 90's) and the goals frequently confusing, but I could also see that the game had a certain charm.
Title

Length

Dates
Diff / Cht
Save
Score

Night Shift

2014 Brandon Brizzi

2.4h

1

2019-03-31
2019-03-31

6