Read more

"King's Quest: Chapter 1"
Developer: The Odd Gentlemen | Released: 2015 | Genre: Adventure, 3D
As of this post I will stop adding pros and cons. My web statistics tell me that pretty much no one is reading these reviews but me, and then I might as well not waste time pretending to be a reviewer.
This game really surprised me. I didn't expect all that much apart from a modern take on the classic Sierra adventure games, but it was really top notch. Great animation, wonderful and funny dialog, lots of humor, and some ingenious puzzles too. Long and varied too. Definitely not bad for a free first chapter.
The game used much of the same template as Telltale Games who did e.g The Walking Dead and The Wolf Among Us. Even down to the cel shaded style. I could steer young Graham around with direction keys on scenes that sometimes were static, sometimes scrolling, clicking on things to interact. To spice things up, the adventure was sometimes complemented with a blend of arcade action and QTE sequences.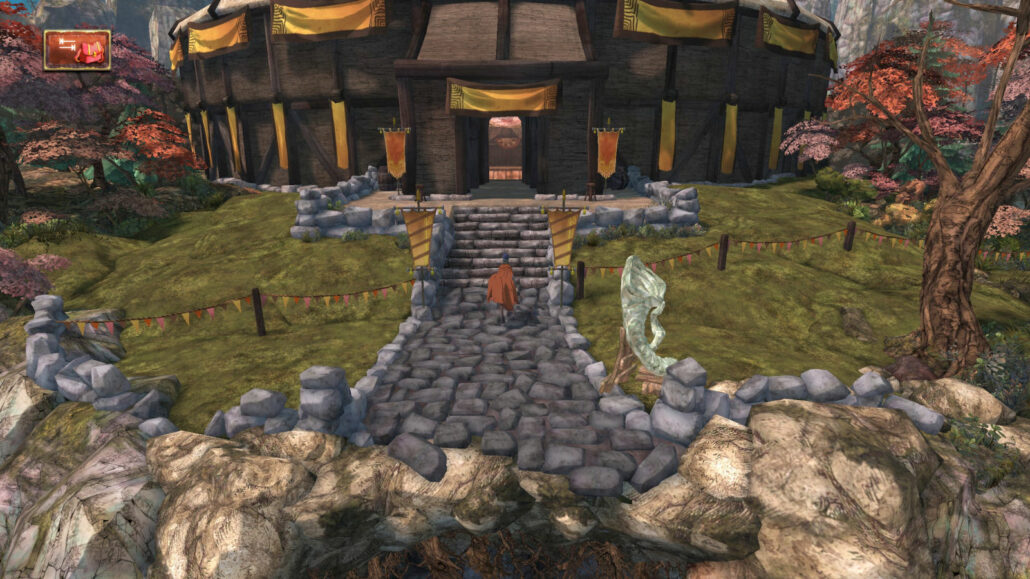 The 3D adventure reminded me of Simon the Sorcerer 3D, and the QTE of Dragon's Lair. Although QTE in games of today are technically already derived from Dragon's Lair, it felt particularly strong here because of the first scene in a, well, dragon's lair. Or perhaps I should say prison.
I completed this first chapter in one sitting taking 6 hours, and I'm happy I spent time with it. The adventure game parts quickly opened up with multiple locations and non-linear solutions, and the dialog was often splendid. I can't say that I was a fan of all of the action stuff, though. Some sequences such as avoiding dragon fire, shooting goblins with a bow, and a race with a narcissistic knight was a bit too much.