Read more

"Brütal Legend"
Developer: Double Fine Productions | Released: 2013 | Genre: 3PS, RTS
This is another one I should have played ages ago but kept postponing – mostly because I was worried about the real time strategy elements that pops up later in the game. Now, that I have finally visited it, I can only slap myself silly for not having tried this truly original heavy metal game some time earlier. So many things to like – Jack Black, the humor, well directed cutscenes, lovingly weird ideas…
…and then they just had to put those dreadful RTS elements in it. More about that later.
I was playing as the roadie Eddie, voiced by the marvelous Jack Black. He got sent to sort of a heavy metal heaven, an open world landscape with dark themes everywhere, as inspired by the best heavy metal vinyl covers you can imagine. It was third person hack-and-slash to begin with, using a big axe and a guitar for attacks, later teamed up with a hot girl, and assembled an equally hot car for racing the roads.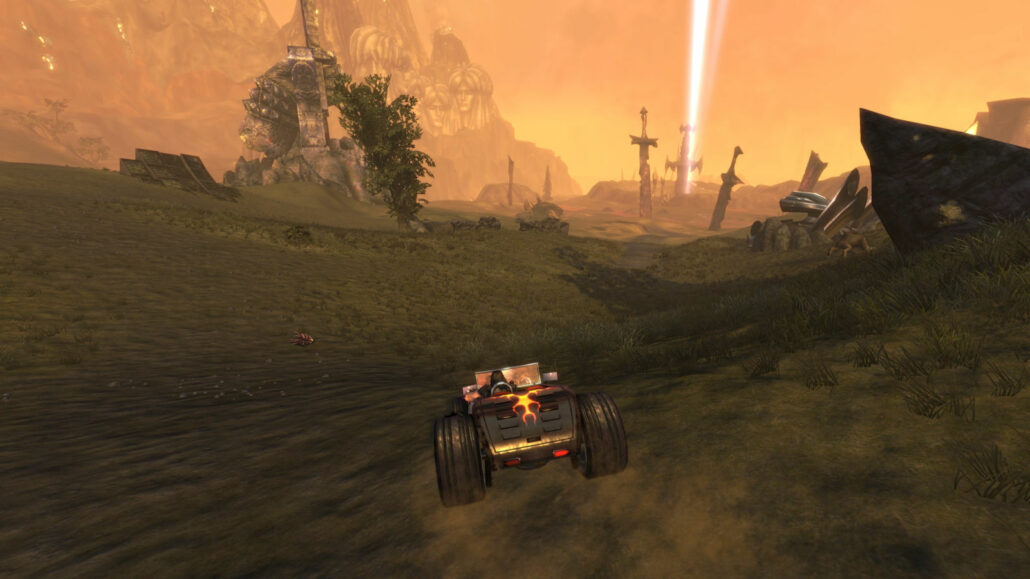 I got a map of the world with primary and secondary objectives. Tab slabs – sort of shrines – could learn me new solos to be activated with a hot key, after which I had to hit the right notes for a few seconds to fire it off. It could be to e.g. summon the car, awaken supports, etc.