Developer: Animu Game | Released: 2015 | Genre: 3PS, Adventure
Another really short game. This one took me about 1½ hour.
It was a third person jumping game with a little bit of sword fighting and puzzle themes. The anime look, with the princess protagonist and her silly bows, gave a few Final Fantasy vibes too. But this was a simple game with just six short levels, of which the sixth one was a boss fight in an arena. The fighting itself was incredibly basic. I could mash a button or click another to back off. That's it.
Every level was a hotchpotch of blocks and stairs with puzzles mostly based on buttons and levers. The princess arrives on a balloon and leaves on one as she finds it, usually at the top. Enemies drop coins and I could get a lot more by smashing secret statues. If I dropped off somewhere, she whistled for the balloon to come grab and drop her off at the latest checkpoint. So far, so good.
What was not so awesome was what happened if the enemies got rid of my health bar. Level restart.
I bought this game expecting it to be a walk in the park. And for the most part it was. The smaller enemies were pushovers, but sometimes a skirmish included a few of their bigger brothers that required many hits to die, and they could get lucky and eat more than half my health bar. After the first three levels I decided not to let myself be frustrated by this and installed a trainer.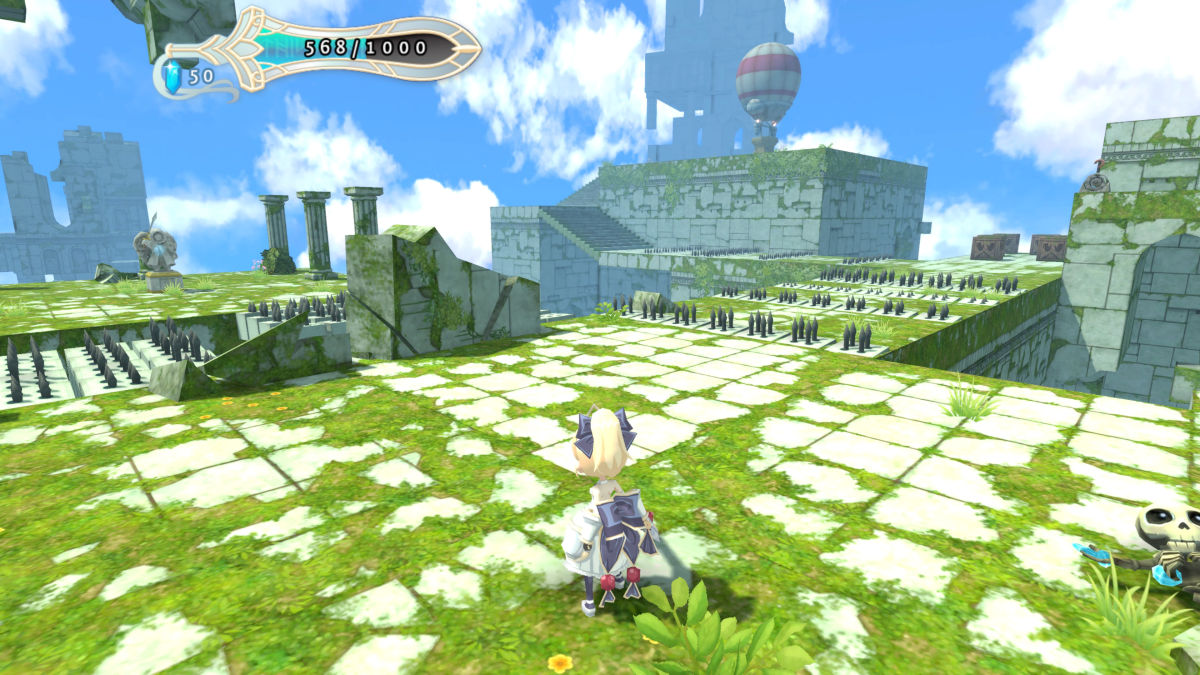 Infinite health. No regrets. And peace at mind to concentrate on the puzzles.
Each level had its own gimmick. The first had spears and pushable crates, and the second had blades and spinners. Both took place in daylight. The third level went into nighttime and had windy loops and annoying draft paths that could push me off the edge. In the fourth level, pillars had to be spun around to send dots into crystals that regenerated solid matter to walk on. In the fifth, I could walk on big boulders.
As mentioned before, the sixth level was a boss fight in an arena. I can't say how difficult it really was as I was still blessed with trainer ignorance, but it felt difficult. The fight had several phases and the princess antagonist shot all kinds of magic fires, crystals and beams, and some of it even seemed to be downright impossible to avoid getting hit by. I sure hope that fight had its own set of checkpoints.
There were a few other things from the basket of pain as well. The protagonist and antagonist had this thing about talking to each other all the time, and just as in games such as e.g. Bastion, I was far too busy with fights and puzzles to pay attention to any of it. The voice of the princess hero was also squeaky and made it painfully obvious that this really was a game for kids.
Title

Length

Dates
Diff / Cht
Save
Score

Forward to the Sky

2019-02-22
2019-02-22

7