Developer: Campo Santo | Released: 2016 | Genre: Adventure, Facile
This first person game mainly took place in a national forest in Wyoming in the late 80's. As the bearded and mild-mannered Henry, I was assigned to my own watchtower. A lot of dialog was exchanged between him and his boss Delilah on a walkie-talkie. Sometimes she sent me out to investigate the origins of smoke or some other task, exploring the canyons, forests and lakes.
This game was really blurring the line between a walking simulator facile adventure and a proper one. It didn't have puzzles and there was a lot of walking (even backtracking) but there was an evolving story, cliff sides to scale, ropes to rappel down from, and even later upgrades that would give access to previously blocked areas such as e.g. keys to a large cave or an axe to cut down a tree for walking on.
My watchtower was sometimes even broken into while I was gone.
I absolutely loved this game. It was totally my thing. It was relaxing, easy, the voice acting for Henry and Delilah was very professional, and although the paths in the valley was sometimes a bit fenced in by rocks and falling trees, it was still great fun exploring. I could check a compass to make sure I was going in the right direction, or look at a paper map (which gave me a touch of Far Cry 2 vibes).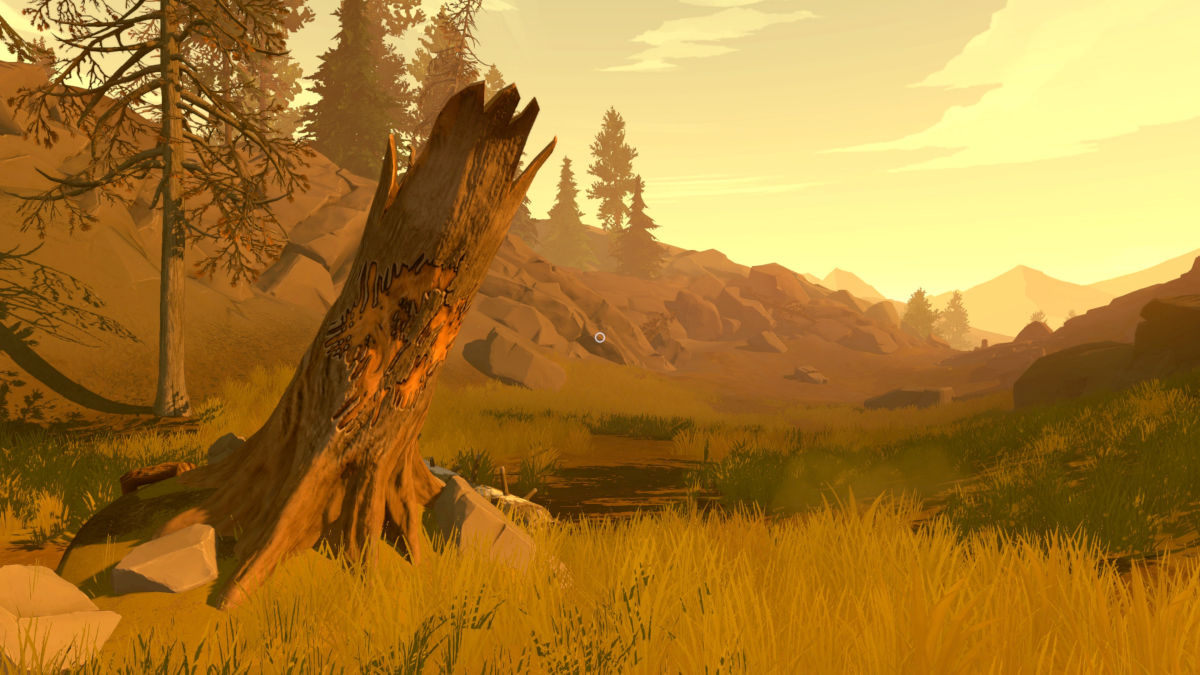 Sometimes I found a yellow cache box. The code was always the same – was a minigame shelved here?
The game started with a sad tale of Henry and his wife that develops dementia. This part was told via big, centered text and two choices for some of them. It reminded me a bit of the beginning of Pixar's animated movie, Up, and it also had a subtle smell of Visual Novel.
In the watchtower, where the game began properly, the story evolved from looking for two littering drunk teenage girls, a pole wire being cut, calling in a forest fire that generated a lot of smoke in the valley, and discovering a weird surveillance of Henry and Delilah. The latter wound up into quite some tense dialog from especially Delilah, almost freaking out at times with paranoia.
Don't worry, I won't spoil the details here – but it was definitely never boring.
Apart from a tiny exception in the end, there were never any people to meet face to face. Henry had quite some body awareness with arms and legs shown while e.g. climbing. I did adopt a small turtle (it was cute), saw a raccoon (that Delilah accidentally spooked off on my radio) and got stung by a bee. I was even knocked out at one point, but I still didn't see an animated face.
Title

Length

Dates
Diff / Cht
Save
Score

Firewatch

2019-04-07
2019-04-08

9