Developer: Crescent Moon Games | Released: 2014 | Genre: Platform, Adventure
This was one of those I pledged to on Kickstarter. I played about an hour of this game before I had seen enough. The retro pixel graphics had a wonderful depth of 3D parallax and the atmosphere was generally excellent, held up by weather effects and some nice music. It reminded me a little bit of Forbidden Forest on Commodore 64, and quite a lot of Superbrothers: Sword & Sworcery EP.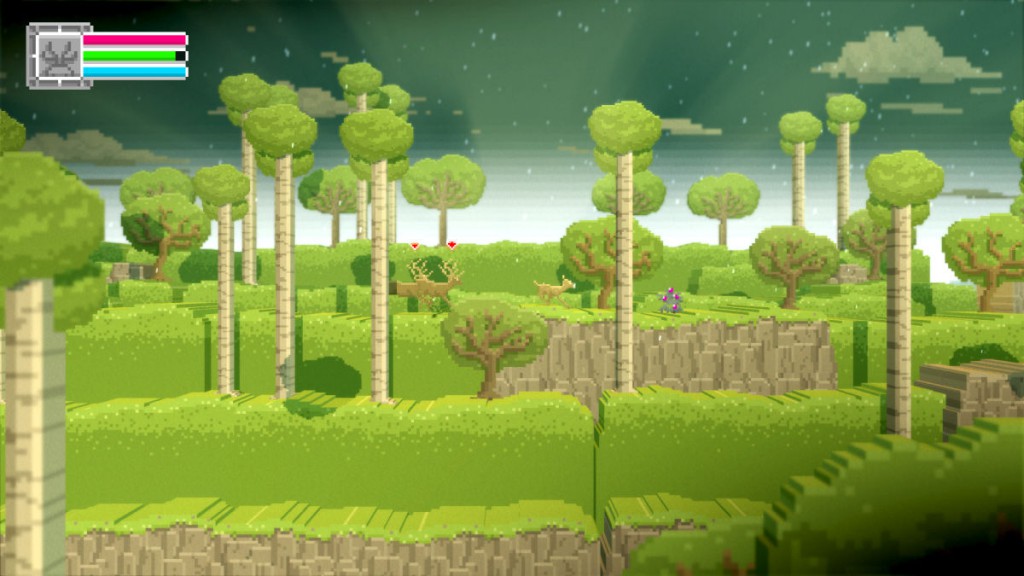 I was surprised about the level of complexity. Although the deer was mostly running and double-jumping, there were blocks to push, skills to put on an invisible action bar, even a quest about finding a monocle for an old man. I had to speed into bushes to see if it popped out of one. Speeding head on into things was also how most animals were killed. Hedgehogs, foxes, pigs, even human hunters – same attack. Or I could just jump over and outrun them. The deer grew older, the longer I went along without dying.
But dying is exactly where the game went wrong and I eventually didn't bother to complete it. Although it did autosave here and there (mostly at the old mans huts) the distance back was way too long. At the end of the hour I continuously retried the same long trip half a dozen times, and I don't consider myself all that much of a slouch when it comes to platform jumping. Okay, maybe sometimes, but not enough to warrant being punished by sending me that far back each time.
Abandoned after 0.9 hours.
Title

Length

Dates
Diff / Cht
Save
Score

The Deer God

2014 Crescent Moon Games

(0h 49m)

1

2015-10-04
2015-10-04

6