Read more

"Rift: Level 30"
I finally dinged level 30 in Scarwood Reach, which is the zone following Scarlet Gorge. It seems I've fallen behind quests, as I've had to do a number of orange quests. I'm not sure what I've done wrong. There was a small batch of quests in Gloamwood which I skipped, but I went back and did them to make up for it. This did turn the quests yellow, but after a batch or two more, the quests were orange once again.
Orange quests, and thus orange enemies (i.e. 3-4 levels higher) is a big problem in Rift, at least for my Cleric even with heavy emphasis on the Inquisitor soul. Enemies up to yellow are easy enough to kill, but orange enemies resist a lot, take forever to kill, and hit hard. I met orange solo mobs in Scarwood Reach that could get me down to about 20% health before I managed to kill them.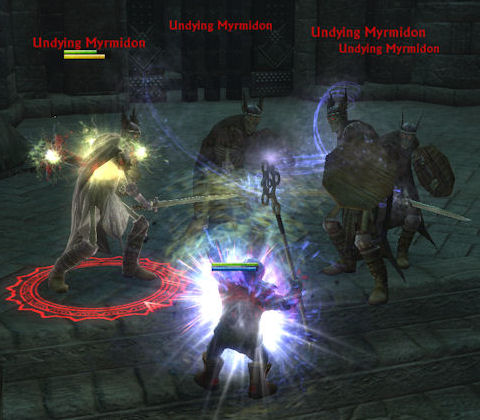 That's just not fun for a casual player like me, so I've decided that I need to go back and grind some footholds and invasions, maybe even try some dungeons. As mentioned in the previous post, rifts are mostly empty after Silverwood on my shard with its medium population. I was hoping it would catch up after Gloamwood, but it hasn't been much better in Scarlet Gorge nor in Scarwood Reach.
Am I too fast and the public haven't caught up? I don't really think so. A lot of players in my guild are much higher level, and besides, I've actually not played all that intensively. An hour or two per day, perhaps. My guess is that people are concentrated on questing and dungeons while keeping rifts in the back of their mind as something they can always do later.